Three reasons Eagles will upset Buccaneers on Super Wild Card Weekend: Jalen Hurts primed to beat Tom Brady
Written by Cody Benjamin on January 14, 2022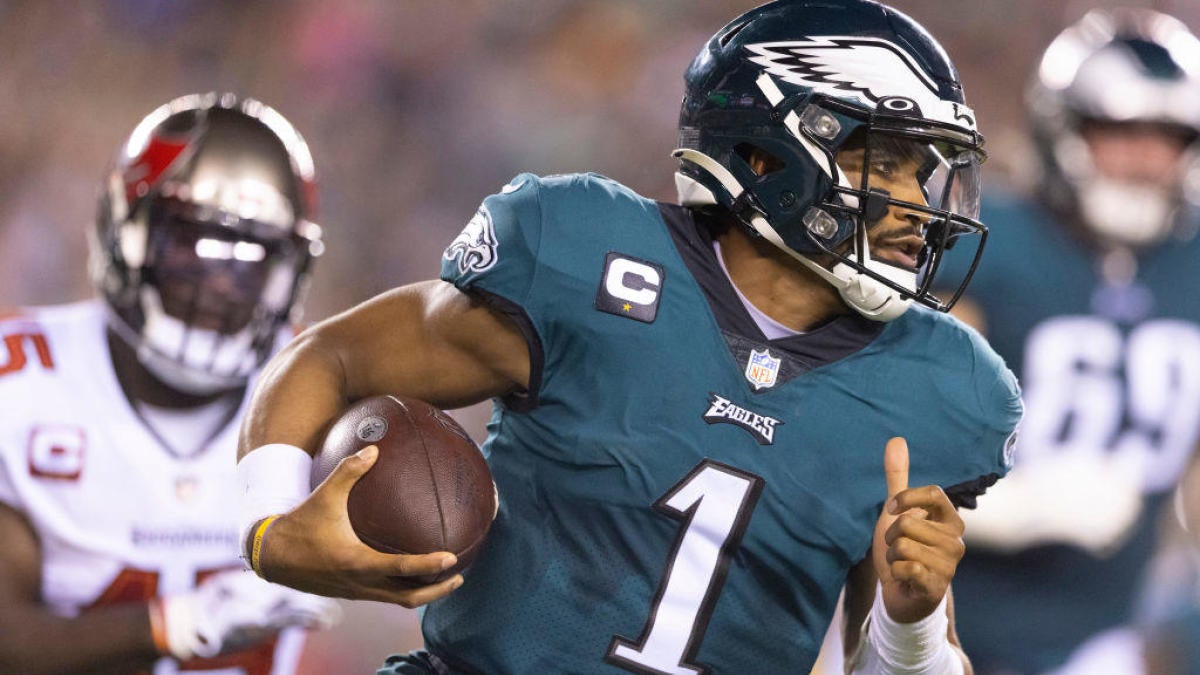 Tom Brady should never be counted out in the playoffs. The Buccaneers quarterback's entire career has been proof of that. And Tampa Bay is right to be favored in its first matchup of the 2021 NFL postseason, hosting an Eagles team that squeezed into a wild card berth at 9-8 thanks in part to a cakewalk of a late-season schedule. But is it crazy to envision a scenario where Philadelphia, which four seasons ago rode its underdog mentality all the way to a Lombardi Trophy, goes into Raymond James Stadium on Sunday and upsets the defending champions?
No. No it's not. And here are three reasons why:
The Eagles have evolved
As in, since the last time they met the Buccaneers — a 28-22 home loss in Week 6. That game wasn't as close as the score indicates, with Brady slowly but surely picking the Eagles apart while Jalen Hurts, in one of his worst early-game performances up to that point, flopped through the air. But first-year coach Nick Sirianni's offensive approach was entirely different then, as if he were calling games for a different QB — or expecting Hurts to become one. Running back Miles Sanders got literally one carry in the first half of that loss. It was part of a trend of Sirianni putting too much on Hurts, and Hurts giving too little in return.
Since then, with rare exception — like a loss to the Giants where the coach-QB combo once again hurt each other by leaning heavily on the pass — the Eagles have smartly leaned into the run. Hurts plays with the vision and body type of an actual RB. Sanders is a full go after resting up from hand surgery, as is Jordan Howard as the bruising No. 2. As a bonus, Hurts has actually made visible progress as a timely thrower during the team's broader pivot to the ground.
Tampa Bay may boast a top-three run "D," but the Bucs have also allowed over 100 yards to the Falcons (121), Jets (150) and Bills (173) in the last month. The Eagles, meanwhile, lead the NFL with an average of almost 160 rushing yards per game, and Hurts — who battled an ankle injury down the stretch — should be in prime form after an extra week of rest. He's also unfazed by the stage, having played in plenty of big games before entering the pros.
The Bucs are badly banged up
Brady's presence alone can offset quite a lot, and he'll at least have tight end Rob Gronkowski, who was missing from the Week 6 matchup, as a steady target. But to say the Bucs have depth concerns would be an understatement. Whereas the Eagles have just two starters listed as questionable entering Sunday's rematch, Tampa Bay has already ruled out RB Ronald Jones (ankle) and wide receiver Cyril Grayson (hamstring), who had emerged as a big-play threat late in the season. Both starting cornerbacks Carlton Davis (back) and Sean Murphy-Bunting (hamstring) are also questionable, while starting RB Leonard Fournette (hamstring) has yet to be officially activated, leaving the Bucs with potentially five starters sidelined.
Even if Fournette suits up as expected, he'll be thrust into a full workload after roughly a month out of action. Out wide, the Bucs are also missing Chris Godwin, who's done for the year on injured reserve; and Antonio Brown, recently cut. That means Brady will be down to Mike Evans, Tyler Johnson, Scotty Miller and Breshad Perriman at receiver. The Eagles defense struggled mightily against top-tier QBs early this season, but Brady's arsenal isn't nearly as deep as it was in October. On the flip side, should Tampa be missing one or both of its starting cover men, star rookie DeVonta Smith would likely be in for a big game for Philly.
The NFC East has Tom Brady's number
Well, kind of. This isn't quite the Saints we're talking about. But NFC East teams have fared far better than expected in some big spots against Brady. For one, you have the Eagles upsetting Brady and Bill Belichick in the Super Bowl back in 2017, and the Giants previously upsetting Brady two different times to steal Super Bowl rings. Washington also nearly knocked Brady out of the postseason in the 2020 wild card round. All in all, Brady is 0-5 against the spread against NFC East opponents in the playoffs, as ESPN notes, and 2-3 outright. Considering his playoff track record, history is on the side of the underdog here.
Since 2001, meanwhile, the Eagles are an astounding 10-1 against the spread and 6-5 outright as playoff underdogs, per ESPN, while teams favored by at least five points in the wild card round — the Bucs are favored by 8.5 — are 1-10 against the spread. Does any of this actually benefit the 2021 Eagles against the 2021 Buccaneers? Maybe not, but some teams just know how to play TB12 better, and those hailing from the East are among them. You can bet your bottom dollar Philly fans will flock to Tampa Bay on Sunday just in case the Birds pull a stunner against Brady again.
The post Three reasons Eagles will upset Buccaneers on Super Wild Card Weekend: Jalen Hurts primed to beat Tom Brady first appeared on CBS Sports.
---
Reader's opinions
---